Leather skirts have this immediate power of basically making you look like a sex goddess. This is apparent on all catwalk shows of the last 50 years. In my view black is best, keep it short and tight and very very shiny, for that domitratix "I know everyone wants to be me right now" look. Joy and Annabel model this very well in the last shoot for Wandering Minds (@WaneringM) and you can follow what they are up to here:
http://ourwanderingminds.tumblr.com/
In 2009 we paired it with a loose silk top of all colours and textures, in 2011 we paired it with brights, in 2012 let's pair it with baggy pastel cotton patterned jumpers, boyfriend-esque Tees and jean shirts.
Lets look through some of the brilliant catwalk appearances which have allowed the Leather Skirt to shine:
From left to right: Matthew Williamson, Rag&Bone, Stærk, Zero Maria Cornejo S/S 2009 NY


Bally SS2012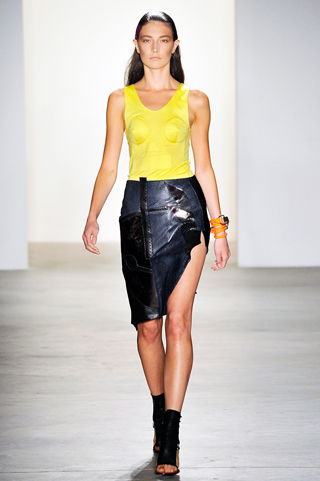 Altuzarra SS 2011
Diesel ss2012
Add captionWandering Minds SS 2012
Wandering Minds SS 2012